A&Z Yoga + Mindfulness

​​​​​​​
Three Simple Exercises to Help Calm & Focus Students
Having a designated area where students can go when they need a few minutes to work through difficult emotions can help improve self-regulation skills and maintain a peaceful classroom environment.
The great thing about this is that you can be creative and use materials you already have, or can easily get, so you don't need to spend a lot of money!
Setting Up – What You'll Need
A comfortable space to sit. 

Work with the area and resources you have. You can use a Yoga mat, cushion, comfortable chair, or just a small area rug.
Calming music and headphones. 

There are tons of traditional yoga and meditation music out there, but classical music and nature sounds are also a great choice!
Timer. 

Whether you use a physical or digital timer, decide ahead of time what your "calming" period will (2-5 minutes is usually plenty!)
Books or magazines.

 Choose age-appropriate materials that promote themes of peace, calming and mindfulness.
Breathing Ball

 (aka Hoberman Sphere). Students can use previously practiced breathing exercises to help self-regulate.
Visual Calming Props.

A snow globe or glitter jar can help students to focus their thoughts.
Journal or sketchbook. 

Each student can have their own mindfulness journal that they bring to the mat to write or draw.
It's best to start using this as an independent tool after you've introduced basic practices of yoga, breathwork, and mindfulness to your students.
Set up the calming corner in a less-trafficked area of the room, with a partial partition, if available.
Talk to students about how the Calming Corner can be used: They can move to this area when they feel anxious or overwhelmed for a few moments, and use the tools available to refocus and calm themselves.
Emphasize that there should be as little disruption to the rest of the class a possible and that it is a privilege not to be abused.
When a student moves to the calming corner, set the timer. When the timer goes off, have the student move back to their chair with a gentle reminder. You can also assign a student helper to set the timer if you assign weekly or daily jobs in your classroom.
This activity is recommended for ages six and up.
Don't have a usable corner? No problem! Call it your Calming Chair, Mindfulness Mat, or whatever works for you and your classroom!
After a few weeks, evaluate how the area is being used appropriately (and not as an excuse to avoid classroom work) and make changes to better suit your class.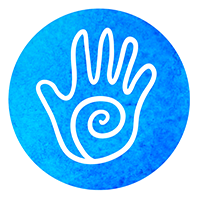 Interested in learning more about how to incorporate yoga + mindfulness practices into the classroom setting? Now booking consultations with pre-k, elementary, middle and high schools in the Greater Philadelphia area. Contact Amy for more info!
Thank you for reaching out! I'll be in touch as soon as possible. Namaste, Amy